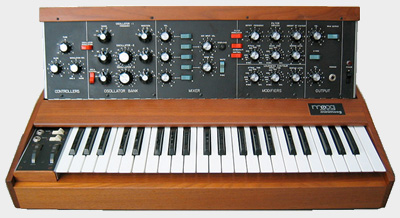 Picture taken from here
Product : Minimoog Model D
Manufacturer : MOOG
Release date : 1970-1981
Country : USA
Some features :
3-VCO
Monophonic
ADS Filter/Amp

Comments :
The most popular Moog synth, the Minimoog is a monophonic-synth designed for musician and performance.

His main characteristic is the 24dB Filter that is very stable with high resonance and that sounds really particular when the sound is getting overdrive : A lovely dirty sound at this moment (listen to the Cosmic Joke demo).

The 3 VCO can produce a big sound but musicians rather uses the last one as LFO. Definitly a lead and bass synth.

Jarre latly used the Minimoog because he always prefered the ARP 2600 filter (although the first ARP filter was based on the Moog 24dB Filter).
Albums which use MOOG Minimoog Model D :
• Chronologie

• Oxygene 7-13

• Metamorphoses


Goodies :

Bass demo
(taken from
http://www.oldschool-sound.com
)

Cosmic Joke Loose Hypotinuse
(taken from
http://www.oldschool-sound.com
)

Moog Win
(taken from
http://www.oldschool-sound.com
)

MoogFighter website